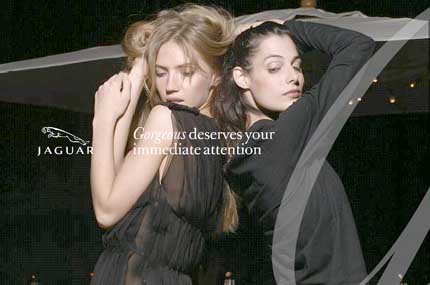 Here's a case where
British humour
has "translated into American" about as well as that year Jerry Springer hosted Miss World and his American
humour
(or humor) fell flat. The
Gorgeous campaign
for the
Jaguar
XK
—which I like, probably because I understand the usage of the word as a noun and some Americans do not—is getting rather nasty reviews in the United States, including at
Slate
, most recently cited in the blogosphere by
Ernie Schenck
.
In fact, they are being rather venomous—and Mr Stevenson of
Slate
shouldn't hint at a correlation between this campaign and Jaguar's poor sales of late.
Those poor sales are due more to product and
young
buyers doing their research. When the Ford Mondeo-based X-type was introduced, too-
trendy
commercials
touted the
car
as being for 'the new Jag generation', when its
styling
turned off all but the old Jag generation; and the new
XJ6
and XJ8, despite their advanced construction, look like the old XJ6 (and I am talking about the ones
Arthur Daley
drove). Duh. No growth from new
markets
. Old
market base
dying off.
They convey a lack of honesty, and people were more than willing to pick that to bits. Hence,
Audi
, which doesn't go as extreme with its claims for its vehicles, doesn't get attacked nearly as badly for building cars on Volkswagen Golf platforms or with Golf engines.
So why not have a
campaign
that turns that 180 degrees? The new XK8 is gorgeous, and Gorgeous reckons the new car is gorgeous.
Jag sales will rise, buoyed by this new car, and sedan sales will pick up with new models in the second half of this decade.
Sure, this campaign might not be a good choice for going
global
, but Gorgeous thinks it's not 'arf bad.
My earlier review of the
campaign
can be found
here
.
Posted by Jack Yan, 01:26
permalink