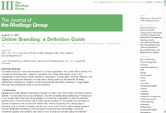 After
my earlier disappointment with the new Blogger
, I did download
Wordpress
for the new
Journal of the Medinge Group
, which will be announced this month. It has a lot of great features, but for someone who can occasionally hack some HTML—I was, after all, one of the earliest
web designers
in this part of the world—it proved limiting.
For example,
Wordpress
will sometimes miss hard space characters, it will get confused if you manually feed in your own span class tags, it will take out some of your hard returns in your code—things that the everyday user won't ever need to bother about.
When
designing
and editing the
Journal
, it was important to have a very high level of
control
which, ironically, despite its amateur image,
Blogger
allows. The Blogger crew has also ironed out a lot of the things that frustrated me at the time of the (forced) changeover. They obviously listened, but the fact they did so
ex post facto
is annoying: I should never have encountered the bugs. As a layman, I still don't see much of a gain with new Blogger from the old, other than the auto-save.
I love the Wordpress
interface
, the ease of
customization
, the tidy comment forms, the ability to add pages that are not to do with the blog, the incredible community, the support—all the things that have made it the blogging platform of choice for so many.
I'm going to leave the
Journal
on Wordpress as it is the right choice for it, especially as it allowed me to make contents' pages for the articles. I still don't consider myself that "serious" a blogger to require non-blog pages published using the program here, so it looks like there'll be no change on the back end at this work blog.
Therefore, based on my limited experience so far:
• Blogger: good as a beginner's tool and pretty good if you have your own web design skills and can do your own non-blog pages. CSS stylesheets aren't as tidy and you are stuck with a very boring Blogger comment form;
• Wordpress: great for everything, especially adding non-blog-entry pages, but is a bit smart-alecky on its interpretation of HTML code. Great community, easy-to-use interface, really a great choice as an all-purpose, robust tool—and new versions don't seem buggy;
•
Vox
: limits comments to other Voxers and the look and feel are limited to the templates they provide, but a great way to share videos, music and books without any knowledge of code.
Posted by Jack Yan, 13:54
permalink