These posts about models I've put on to
Autocade
traditionally went on to my Vox blog, back in the days when vox.com worked. I would group them into themes that interested me, and link the entries back to the site.
As of tonight, we have all the
Honda Accords
up, and I wonder if we will crack the 1,000 barrier before the close of 2009.
The last one to be entered was the North American-market Accord Crosstour, meaning we now have some very distinctive vehicles being sold as the Honda Accord these days.
It might be of interest to readers here—and it does give us an insight into how much the Accord badge, now 33 years old, means to Honda. It might adorn different cars, but they all, by and large, have the same "meaning" to the consumer. This is one interesting exception to the idea of global, homogeneous markets, where the brand's
meaning
is very similar worldwide, but the product offering is not.
Honda Accord. 2008 to date (prod. unknown). 4-door sedan, 5-door wagon. F/F, 1997 cm³ (4 cyl. OHC), 2199 cm³ diesel, 2354 cm³ petrol (4 cyl. DOHC). Longer, wider and lower Accord, building on previous model's strengths with raised quality as Honda goes after Audi A4 and BMW 3er-Reihe. More angular, muscular styling, though not marketed as a sporty car. Collision avoidance and lane-change warning systems. Sold in US and Canada as Acura TSX.

Honda Inspire/Honda Accord (CP3). 2007 to date (prod. unknown). F/F, F/A, 1997 cm³ (4 cyl. OHC), 2354 cm³ (4 cyl. DOHC), 3471 cm³ (V6 OHC). Larger Inspire, now with Legend 3·5 engine in home market. Boxier styling, classed as full size in the US. Sold as Accord in many markets outside Japan, including US, where four-cylinder versions are available. Considered a well balanced all-rounder in the US, and sportier than Japanese rivals.

Honda Accord Coupé (CP3). 2008 to date (prod. unknown). F/F, 2354 cm³ (4 cyl. DOHC), 3471 cm³ (V6 OHC). Coupé version of Honda Inspire (2007–), aimed at the US market. On shortened wheelbase, and classed as mid-sized car in US (unlike full size of the sedan). More attractive styling.

Honda Accord Crosstour. 2010 to date (prod. unknown). 5-door sedan. F/F, F/A, 3471 cm³ (V6 OHC). Much-criticized (for its looks) hatchback version of Accord, marketed as a crossover in North American markets. Pricey, less sporty, and not really a hold-all. First Accord sold in US with four-wheel drive.
Labels: branding, brands, car industry, cars, Honda
Posted by Jack Yan, 11:54
permalink
Autocar
is currently talking about what was the car of the decade. I remember in 1989, the magazine ran a series on the most beautiful cars of each decade, and named the most significant. That decade, the Ford Sierra was the most significant, for mainstreaming the aero look, an assessment I agree with.
One of its writers has named the Audi R8 his choice
, and the magazine is doing a poll, asking readers to vote on theirs. The magazine has provided a list, which includes the Hyundai i10 (important for the Indian motor industry's global exports) and the Toyota Prius NHW20 (but what does it really pioneer than the original NHW10 did not?).
What surprises me is that the
Aston Martin V8 Vantage
is not on its list. You can write it in, but how come this very British of automobiles is missing?
I know the 911 beats it dynamically on every count. I know it's not as powerful as the bigger DB9. On the other hand, it looks the business, and the only area where it stirs the soul more than its looks is its sound.
It's the opposite of the attractive woman who sounds common the minute she opens her mouth. The V8, more than the DB9, and more than the 911, seduces you a second time when you open her up.
What it does represent is the survival of a brand, and how to do a downward brand extension without losing too much exclusivity.
While the V8 Vantage means that more footballers are able to get their hands on one without getting into the Premier League, at least it has assured Aston Martin's survival for the decade—and a good part of the coming one.
For most of my lifetime, Aston Martin Lagonda has really been a single-range marque with the occasional four-door model that broke down.
Now it fields a wider product range of the V8, DB9, DBS and Rapide, and we haven't even looked at the limited-edition models.
It was a downmarket extension that was not botched. For a lesson on how not to do it, one need look no further than the Jaguar X-type, which was Detroit's way of taking on BMW's 3er.
One of my friend and colleague
Stanley Moss
's
Medinge
papers dealt with this very topic, indicating that the Europeans did downmarket forays better.
How ironical, in this case, that both these examples happened while Ford ran Aston and Jaguar. However, one might say that Aston was left more to its own devices than Jaguar was.
In addition, the V8 Vantage made Aston Martin a brand that kids could point at and dream about. When I was a child, the car with the same name, which was based on the original DBS, was a brute, but it was never the star of my bedroom wall. It was not cool in the way the Porsche 930 was cool. Or the Lamborghini Countach.
Sure, the V8 did not mobilize the masses nor did it present a new technology.
But for
Autocar
readers, I suggest they enter this model in for its significance to the Aston marque, to British ingenuity, and for a reassuring dose of patriotism.
Labels: 2000s, Aston Martin, Autocar, branding, brands, cars, history, UK
Posted by Jack Yan, 12:10
permalink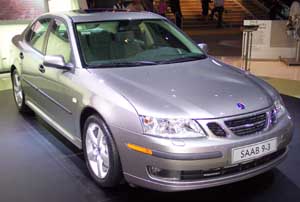 Photographed by Meredyth Lewis/JY&A Media
I know I blogged enthusiastically about the potential of Koenigsegg buying Saab
to put its solar-powered car into production but, as we know, that deal has since fallen through. Saab's future is uncertain again, even if Dutch company Spyker—which also makes specialty sports cars—has expressed an interest in buying it. There are still a couple of other bidders, Renco, and Red Chinese automaker Beijing Automotive (BAIC).
While I've very happily
dissed BYD for falling foul of intellectual property law
(to which some very un-Chinese face-losing types cried over), and
had it in for SAIC over its tactics in trying to buy MG Rover
, I've always applauded those Chinese firms who are willing to showcase the
true
ingenuity of Chinese designers. The latest
Cherys
,
the MG 6
, and even the great symbol of Chinese communism, the Hongqi, actually look the part. (The Hongqi, in particular, plays homage to some of the 1960s' and 1970s' models, and straddle the part of looking retro and heritage with communist restraint and free-market limousine pretensions.)
I'll reserve judgement on quality till I see a Red Chinese vehicle in the metal, but right now, BAIC looks like the only automaker that might be able to give Saab a shot.
It's not beyond Spyker's capability. If I thought that Koenigsegg could make a go of Saab, then why not Spyker? A lot of it is restoring the corporate culture and reinstil that Saab pride. (It's the sort of move John Egan made at Jaguar when he put a large leaper mascot back at the factory and had an unveiling ceremony. The cars might have been badly made, but at least the pride was back.) While Koenigsegg had plans for a solar car, which fits marvellously with Swedes' business and social conscience, Spyker might be the sort of owner that would encourage Swedish innovation. Saab's engineers have not all disappeared and the new 9-5, from what I have seen, is still quite a capable and distinctive car.
But does it have the readies to ensure long-term survival for Saab? That's the hardest question to get one's head around, because if it were there in the family silver, why hadn't it been used to launch smaller, less exclusive Spykers? Simple: even if the money were there, Spyker hasn't had downmarket plans in mind. Will it be able to take on a (relatively speaking) volume manufacturer and turn it around, or will Saab simply become another limited-production line, being built by a few hundred staff in Sweden?
Meanwhile, we are seeing some interesting tactics being employed by Beijing. I already knew that the old 9-5 production line was making its way over to China, but the latest news is that the 9-3 is heading east, too. Powertrain technology and tooling have also gone, and Saab people will help BAIC integrate the technology into its cars.
The Murdoch Press claims that the current 9-5 has also headed east
, but I wonder if this is a typo.
BAIC lacks, of course, a brand, but its styling is fairly sharp among the Chinese automakers when it comes to its own-design work.
The sales do not bode well for the Swedish worker, but what does one expect of a conservative government that has been keen on selling everything from Absolut to a part of TeliaSonera? It was predictable, and similar moves in New Zealand have done little for the country's productivity and wealth.
This is not a popular view in the Swedish business press, which embraces the technocracy, but it is all too familiar to most New Zealanders, who wound up opposing asset sales by the late 1980s.
However, I digress, and there is plenty there for another blog post.
The BAIC acquisitions have been done legally and at arm's length. There are no stories emerging from Trollhättan about Saab managers getting drunk as Chinese executives entertained them, or false promises about joint ventures that failed to materialize. Already, this shows good faith and face.
The company has learned from the days when the Jeep Cherokee design somehow leaked from the company and
pirate firms were churning out a model
to which BAIC itself had the exclusive Chinese licence. It might actually be quite a good defender of intellectual property.
It has roughly the same number of years in JVs as SAIC, initially with Chrysler, and more recently with Hyundai, so we are not talking about a bunch of amateurs.
And BAIC has dreams of international expansion. What Chinese firm doesn't, at this level? What it eyes is less the 9-3 and 9-5, but the Saab name that could adorn a whole generation of new cars.
The conservative government of Sweden is unlikely to kick up much of a fuss on behalf of the Swedish worker if more assets go to Beijing.
However, this might be the lesser of two evils, if some production is kept in Sweden—even if it is assembly—than for it to fade away completely as a slightly downmarket Spyker.
It would ensure the continuation of a brand that will inherently be tied to Sweden, even if some componentry comes off Chinese production lines.
And is being Chinese that much worse than being German, when Saabs have been rebodied Opel Vectras for some time now?
If indeed Swedish engineers are flying out Beijing these days to help productionize the 9-3 and 9-5, then the quality will surely be up to Swedish levels.
It keeps the door open long-term for top-end Saabs still emerging from Trollhättan while more basic models emerge from Beijing. Eastern markets are the ones that are really growing these days, and basic economics suggest that the products should be built where they are most desired.
And at least whatever BAIC builds will be of Saab design, albeit on Opel platforms. It will not be a Japanese Saab, the 9-2X, which the company's brand adorned earlier this century when GM had a Subaru share holding. It will not be
a big SUV based on the Oldsmobile Bravada and made in Ohio
, another of GM's abominations (though at least that kept buyers at Saab when, prior the 9-7X's release, they were flocking to SUVs made by other brands).
Whatever BAIC builds at least will have a Saab soul, not one dictated by Detroit economics. BAIC itself has an electric car design which would work quite well with the Saab brand, too. GM's failure to grasp anything about the Saab culture—which, incidentally, contrasts with Ford's ability to keep the brand essence of most of its acquisitions, including Volvo—meant that any differentiation and distinctiveness were washed away by cost controls and the GM way. If it could not keep its own Stateside Saturn division unique, what hope was there for an out-of-sight, out-of-mind outpost, starved of resources to develop new models?
I wish Saab and Koenigsegg had tied up, or Saab had the volume to be independent. These are not options. Looking at what we have, BAIC might not be the worst suitor. If Saab becomes its only international brand, it certainly would treasure it more than GM, with its many divisions, ever did. And if it understands that brand value and country of origin have some important ties to car buyers, as Tata did
when it acquired Jaguar and Land Rover
, then Sweden might not lose out.
Labels: BAIC, Beijing, branding, brands, cars, communism, conservatism, copyright, corporate culture, design, ethics, globalization, GM, intellectual property, politics, Red China, Saab, Spyker, Sweden
Posted by Jack Yan, 09:19
permalink