'Damn, motherf***er, what do you mean you've misplaced your copy of Lucire?'
Copies of
Lucire
, the
magazine
I own, were in the
movie
Two for the Money
, starring
Al Pacino
.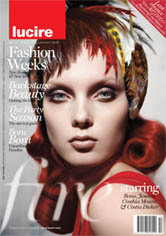 Our next movie is coming out in August 2006 and I understand (thanks to
a post on the meme by Tim Kitchin
, which inspired me) that
Pacific Air 121
, which is what it was called when I signed the documents, will be called
Snakes on a Plane
(which is what star
Samuel L. Jackson
reckoned it would be called. And when it comes to a movie title, Samuel L. Jackson has way more clout than me).
It's a rare example of movie honesty. The old title was nondescript, but the plot of
Snakes on a Plane
is snakes on a plane. Long version: a terrorist unleashes a crate of snakes to eliminate a witness. The witness is on a plane.
Or: 'It's a title. It's a concept. It's a poster and a logline and whatever else you need it to be. It's perfect. Perfect. It's the Everlasting Gobstopper of
movie titles
,' according to blogger
Tongodeon
.
Or it's a
brand
that's so frank, it's a relief from all the over-hyped titles out there. Maybe this is what America needs in this era—an
ironic
dose of
postmodernism
.
But what is odd is the
term
has gained a life of its own. 'Snakes on a plane' has inspired
a cartoon
, a blog (
Snakes on a Blog
),
a T-shirt
, and even one idea that it should be a term that rests somewhere between 'C'est la vie,' and
'Shit happens.'
It's good old everyday folks doing this—
Wikipedia
cites a blog from screenwriter
Josh Friedman
—not Time Warner or New Line, and when the movie
plot
sounds as silly as this, I'm glad we have the public doing the
marketing
. I still haven't seen
Two for the Money
, since it never got a national release in
New Zealand
, but if the
snakes on a plane
term is this much in the
public consciousness
, I might see this one without having to travel.
It also shows that
online media
and
word of mouth
(even if virtual) work quite well—something that I had relied on to create my businesses in the first place. It's been fascinating to see this happen to a term that did not (publicly) exist a year ago, and it's been built up by bloggers and folks having fun—the
citizen media
have created this. It could be bigger than
Tourist Guy
(or the
Tourist of Death
) in 2001—Time Warner must be worried this is peaking a little too soon. The second
mainstream media
item has surfaced, at the
Toronto Star
, after a piece in
Wired
.
Just remember, if you expect Sam and the gang to get rid of the snakes, the solution is to employ the copies of
Lucire
in the seat pockets on the plane and indulge in
Whacking Day
.
Del.icio.us tags: Snakes on a Plane | word of mouth | citizen media | blogging | vernacular | postmodernism
Posted by Jack Yan, 05:53
permalink