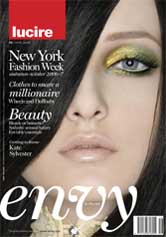 Markoos
, in his comment to
an earlier post
I made, got me thinking about
magazines
in the age of the
web
, and now,
Web 2·0
.
I had wondered about this myself. In 2000, when I discussed doing
Lucire
as a
print
title, the prevailing pre-
internet
-bust wisdom was that print was a retrograde step. In 2006, with the print
magazine
on an upward trend, there seems to be enough of a
market
for it.
Web sites
have not replaced all
print media
, but where have they reached in most? Answer:
disposable media
.
Newspapers
and magazines which we do not covet, but throw away after a very short time. Hence, some newspapers this year decided to make an edition some would buy, not because they needed it, but because they were made to think it was special beyond the other daily editions. They did so with
cartoons of Mohammed
, not in the service of
journalism
or the
public
, but in the interest of sales.
In an age of
environmental
consciousness
, why waste all that paper if we can recycle electrons instead, especially for media which we would never covet? Get the information like a
Vulcan mind-meld
, and move on to the next site.
My belief is that magazines need to bridge the gap between everyday media and the
coffee-table book
.
Marcello Grand
, when he began
Black & White
(a photography magazine whose early editions, at least in my memory, had an awful lot of
nudity
), bridged that—
mainstream
titillation with artistic merit. With
The Robb Report wanting to find a new home
after so many successes, there is clearly a —
niche
for the
premium
magazine (which was the purpose of my post).
However, niches are just that: niches. When filled, you had better find another means of
differentiation
or
positioning
, two of
branding
's tasks. My view has been that
Lucire
must reflect a sense of
covetousness
, so people would buy it as an
indulgence
, a magazine which they would keep. It needs to look good on
coffee-tables
but be more affordable than an
art book
. (Fairfax's
Cuisine
does this successfully.) Yet positioning it in a too-rich niche would be silly, because you would never reach a mainstream audience. Hence,
Lucire
has to cover affordable things, too, so it builds
affinity
—another branding task—and deliver what I say is necessary in the mid-2000s: attainable luxury.
This is a trend with so many premium
brands
, anyway:
BMW
1-series, Emporio
Armani
, and the like. And mainstream is trying to be premium: to wit, the
Volkswagen Golf
. Yet few seem to cover this segment.
Vogue
tries, and probably succeeds because it is
Vogue
and its
brand
has created
habits
for so many over 116 years. But the approach I take, to me, makes sense. Since I was born on the day
Condé Nast
died, I like to think my approach may well be the right one in this sector for this century.
Del.icio.us tags: magazine media Lucire Vogue positioning brand disposable media mainstream premium attainable luxury market niche marketing marketing branding newspaper
Posted by Jack Yan, 00:04
permalink