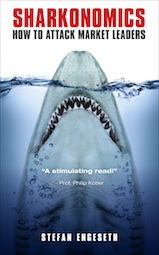 When I talked about Nicholas Ind's book, Meaning at Work, a few weeks ago, I said there were two titles that I wanted to mention.
The second is by my friend Stefan Engeseth, who has followed up some very innovative titles—Detective Marketing, One and The Fall of PR and the Rise of Advertising—with Sharkonomics.
The premise is simple: how have sharks survived millions of years, and can we learn any lessons from them for business?
I've been involved with Sharkonomics since Stefan pitched the idea, and I've had word of him heading down to South Africa to dive with the beasts.
I've dived with them, too, many years ago, except mine weren't as treacherous as the ones he confronted.
A few of us, in endorsing his book, couldn't help but use a bunch of shark puns. Don't let them put you off.
He wants to get further word out and the first 100 people to do so will get the book for free (details here). You can read a brief summary about it here. It's published by Marshall Cavendish, the people who published One. Also head to Sharkonomics' Facebook page—there'll be more information on the upcoming launches and some of the great ideas Stefan has planned for them.