To think, if I actually followed the advice of the Microsoft expert, I would still have a non-functioning Internet Explorer 9 that displayed blank pages. Rule no. 1: when it comes to computing, never follow the advice of a self-righteous expert. An everyday user who found out things the hard way, sure. An expert who has kept an open mind and wants to dig with you, you can probably trust. But an out-of-the-box certified expert who believes in the superiority of a product as though it were a cult, probably not. No more than you should believe members of cults.
IE9 has never worked on the first installation of any computer I own. But, earlier this week, it worked on my Vista laptop, after blank screens since March 2011. This was curious to me, since the blank screen problem is fairly common on the 'net, just that Microsoft refuses to acknowledge its existence. If the standard replies do not work, the solution is to format your hard drive.
That already shed doubt on the Microsoft "expert" advice I had, beyond the arguments I made in my last blog post. Obviously, for Vista, Microsoft knew there was a problem and fixed it between March 2011 and February 2012. It only took them 11 months.
As a failing IE9 also takes out Microsoft Gadgets and McAfee Internet Security, by showing blank screens on those, too, it's a pretty serious matter.
Microsoft's "expert" had told me that my use (or any use?) of System Restore was 'injudicious', when with hindsight it appears to have been the most sensible thing I could have done, given that IE9 also took out Firefox on first installation on this machine. This so-called standard installation had had effects far beyond the norm, and had I removed only IE9 the "proper" way, there was no guarantee that Firefox would have returned to normal.
Yesterday, I ventured on to my laptop to see if McAfee would run. Sure enough, it displayed. But also interestingly, it displayed in Arial Narrow—a font family I know we did not have.
Microsoft had included Arial Narrow in one of its updates and that was the one key to allowing IE9 to function.
People who know me, and have heard my speeches, know that the first thing I do, after installing updates and anti-virus, is see to the ugly default fonts. We have numerous licences for Helvetica, and since Arial was designed to supplant a superior design, we install Helvetica. We remove the font substitute line in the Windows registry. And we delete Arial.
This has been the practice for years, certainly since Windows XP, and we ensure every Mac we use remains Arial-free, too.
It has never presented a problem at any level.
Till now.
Windows 7 doesn't like Arial being deleted, but I programmed in the usual font substitutes, took out 'Helvetica=Arial' (in typographic terms, this is like saying 'Grace Kelly=Katie Price') and ensured the four main Arial fonts could not be found by the system on start-up.
Of course, every program in the world works with these settings. Except IE9 and anything that uses IE9 to render its pages.
I still doggedly refuse to have Arial on any of our computers because of its poor design. This would be like having Prince William marry Britney Spears and ensuring her future position as Queen of the United Kingdom of Great Britney and Northern Ireland. There are just some things that aren't done.
So we found a version of Helvetica, one that had been superseded that was not being used on any machine, and renamed it. We saved each of the four variants as an OTF, an OpenType, PostScript-flavoured font. And it worked.
Here's the great irony. IE9 is still one of the worst browsers typographically, even worse than Opera 11. Even though Windows Vista and 7 support PostScript, TrueType and OpenType fonts natively, IE9 doesn't show anything but TTFs in its font menus (left). Short of linking your own fonts—and it messes up there as well—the only ones that will ever display are the TTFs you have installed. On the actual pages, a lot of fonts that you know are installed on your machine won't show in IE9. If you bought licences, too bad.
Therefore, Arial is actually not needed by IE9: it just likes knowing it's there, as a security blanket.
I think this illogical state of affairs shows how poor the product remains. Those who are less typographically inclined might not care, and look at things like speed (frankly, I see little difference—and if anything, it seems slower than Firefox), but since every other program on the planet works quite happily without Arial, my opinion is that Microsoft messed up. IE9 noticeably slows down Photoshop and a few other programs, which begs the question: beyond making sure your Microsoft Gadgets and McAfee work, why bother?
Fellow computer users: don't format your hard drive. Only a quitter would do that.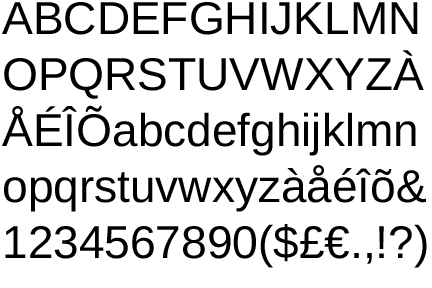 On a related note, Steve Matteson's Liberation Sans (above) shows how it should be done. Steve was faced with the same brief—make a sans serif with the same metrics as Helvetica—and designed something quite beautiful that came as an Ubuntu 10 default. It's very well hinted, too. You can download it here.